Dear Diary:

I write this as I sit in my room, a cozy place to gather my bearings when I'm weary of battle and adventure. A place to feel safe, to call home… to find alien hairs on my pillow and a nail clipping between the sheets.

Yes, dearest of diaries, this is an inn room – a haven of respite and experience buffers that's probably been handed down more times than a reusable diaper (and probably cleaned as thoroughly too). Granted, I'm in one of the dingy rooms in Limsa, since there is apparently "overbooking" issues in the fancy place in Ul'dah.

And by "Overbooking", I'm not implying that somebody failed to see that, just as it was impossible to fit more than 25 retainers in one Market Ward without getting a cute little message about not being invited to the party or something, it would be a challenge to get more than 100 people in individual rooms without using bunk beds, public baths and some sort of game-development skill that may or may not have been a requirement to work at Square.

You'd think there'd be space for one more but… nope.

And of course I'm not implying this. There's no point in implying a fact.

So, my dear diary, here I am, after a day of making the soles of my feet raw on the land of Eorzea, another day of hardship and excitement, of sitting through a chat with my retainer and spending most of my evening double, triple clicking on everything I wished to exchange with her.

See, diary, there's something so delightful about that 5 second delay between trades that it makes me want to forget I have a life just so I can waste it doing something that by the norm should've taken 10 minutes instead of 2 hours.

How could anyone not find this to be one of the many thrilling things this world has to offer?

In fact, I'd say I find it on par with crafting – that magical experience that allows you to discover firsthand the wonders of a thriving economy, based on a pricing history that disappears every time the server has a fart (ie, "emergency" maintenance.)
But alas, we'll get back to the economy and the maintenance at another time, for we must not forget what an unforgettable task it is to be a Disciple of the Hand in this game.

Now, I am only a level 8 Weaver, but don't get me wrong: I'm level 8 by choice, because I don't want to get to 50 too soon. I want to enjoy every craft, every minute, every second of that endless source of fun that is holding out for the chance of all your materials exploding in a plume of shits and giggles! 'Cause, what's life without a little bit of risk? Without a couple of million gil combusting spontaneously without a chance to load a save file?

This little guy is having the time of his life! Look at that face! It's like he's on a rollercoaster of excitement!

That's the kind of thing that makes you feel alive, that dribble of sweat every time you take a stitch, tie a knot… Doing Ifrit or Moogle fights doesn't hold a candle to doing a synth for the 1350th time, trust me.

But there is more, my most intimate friend, my diary, as there's nothing that calls me more to Eorzea than the ability to walk from end to end of the known world when I've run out of anima.

Believe me when I say I think Anima was a bad idea. No, not the amount you're given or how quickly it runs out, leaving you stranded in the middle of nowhere with a chocobo that keels over if something that can't even bite its ankle so much as looks at it funny.
I personally think anima should be abolished, leaving us to the task of enjoying the beautiful sights of our world on foot, crossing the extensive maps that lead through a world of pure fantasy. A world where every flower is different, every mountain individually created, every tree grown from a different seed, every "wait… haven't I been here/seen that before?" a rhetorical question.

Damn, what a view… I. feel. so. ALIVE!

This stands especially true for The Black Shroud, an area so intricate and detailed that navigating through it is, if nothing else, a pleasure for the senses. Every time you've been lost; every time you took a wrong turn and found yourself going from an area with level 1 bunnies into an area with level 90 accidents of nature; every time you get stuck on an invisible wall protruding from a pebble with more mesh and textures than the whole of Skyrim you are becoming part of something unique, something special.

Something called a premature aneurysm.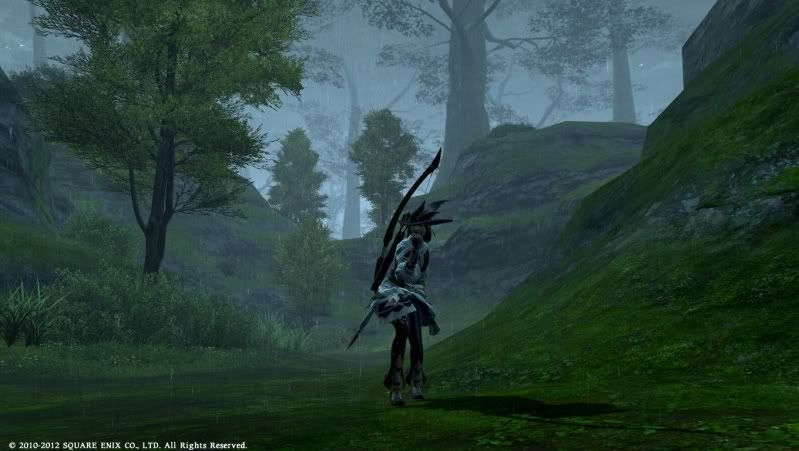 I'm not lost! The map just doesn't know where I am.

This held especially true for my experience near Camp Crimson Bark today, as I tried to get a hold of my first piece of White Mage AF.

Moving into the area known as Turning Leaf, where my crate was located, my partner (Lhyet) and I found ourselves becoming eternally amused by the fact that agro in the area had a new and vaguely misplaced concept of originality. Not happy with having the usual sight, hearing and magic agro types, the game recently introduced the "patience" agro.

The way it works is by forcing you to walk a good 15 minutes to your target destination, pressing down on the slow-mo and forward keys with such force that your fingers start swelling up, as dozens of Ents (or whatever SE has decided to rename them) stroll by in a conga line giving you that funny, iguana look they do.

Yeah, that look that tells you that you can walk past, you can go in circles, you can kill Bambi's mother, you can set yourself on fire and roll in the meadow, just as long as you do it WITHOUT RUNNING.

Because if there's one thing them trees don't like is running and I might be wrong, but I have the feeling this may be an embodiment of the dev team forcing us to take it slow before we notice there's not much more content to the game and forget why we're paying.

The best part, oh diary, my diary, was when I had to repeat the process twice, because in getting agro by something else that DID involve running, I forgot to pick up the contents of the crate. And the second best part was when, even in that next time I tried, I couldn't get my AF because a tree decided my foot moved and inch too fast.

So, as you, Journal 'o' many wonders, can see, there are many times in which one's thirst for adventure can be quenched by the simplest of things across this vast land we call our home. One must just search for enjoyment in what others may only see as a boring chore, a mistake(s) by the creators of our world, the mother of all drags, a turd among a sea of mind-numbing options…
For, if one tries, one can find joy in the strangest of places – even those were philosophy and deep reflection are more likely to take place.

Thus, Dear diary, I must conclude this entry, given that I have not only run out of things to say, but I have also run out of a method to ensure personal hygiene (read: toilet paper), and one cannot leave these sanitary dependencies (read: throne room) without making one presentable to the fascinating encounters that await one out there (read: hide and sleep in a chicken coop somewhere).

Yours faithfully…

*RIIIIIIIIIIIIP!*



"This was meant to be my diary… right?"
(Source: lodestone.finalfantasyxiv.com)